The Anchor
Brandon Ellis, MLS(ASCP)CM is a hidden hero and our outstanding laboratory manager at the Johns Hopkins Hospital.
He has risen through the ranks in the medical microbiology lab beginning as a medical laboratory scientist on our evening shift in 2007, to a Lead of our miscellaneous bench, to becoming our laboratory supervisor and now our laboratory manager for the last couple of years.
As we celebrate Medical Laboratory Professionals' week and the many hurdles we have overcome to-date with COVID-19 testing, it seems appropriate to acknowledge Brandon's tremendous efforts in the laboratory's critical role during this time. Brandon has been an anchor in the sea of craziness and unforeseen daily challenges that this pandemic has brought. As the laboratory met the challenge of developing a SARS CoV-2 assay, his engagement was incredible and his demeanor efficient and calm, comforting staff and moving us forward.
Brandon has been an anchor in the sea of craziness and unforeseen daily challenges that this pandemic has brought.
With his help and guidance, we have brought in numerous testing platforms to build redundancy in testing, to compensate for various reagents shortages. We rolled out rapid testing at all our affiliate hospitals and continue to update physicians on what swabs/specimens and transport media are sufficient for testing. Brandon was asked to solve problems that go beyond the walls of the laboratory. He has a great command of the supply chain issues and has worked endless hours to ensure that physicians on the front lines have what they need for sample collection to extraction kits for our manual laboratory-developed test, to securing kits for high-throughput automated systems to ramp up capacity. In addition, Brandon facilitated operational details for eight hospitals not in the Johns Hopkins Medical System so that we could accommodate testing to ensure timely care for patients throughout the greater Baltimore region and beyond.
In addition to all of this, Brandon is pursuing his MBA at Loyola University Maryland and plans to graduate this summer. Ironically, he had a supply chain class during the pandemic. Brandon should receive top ranks as he is navigating the largest supply chain challenge one could be faced with (A+++).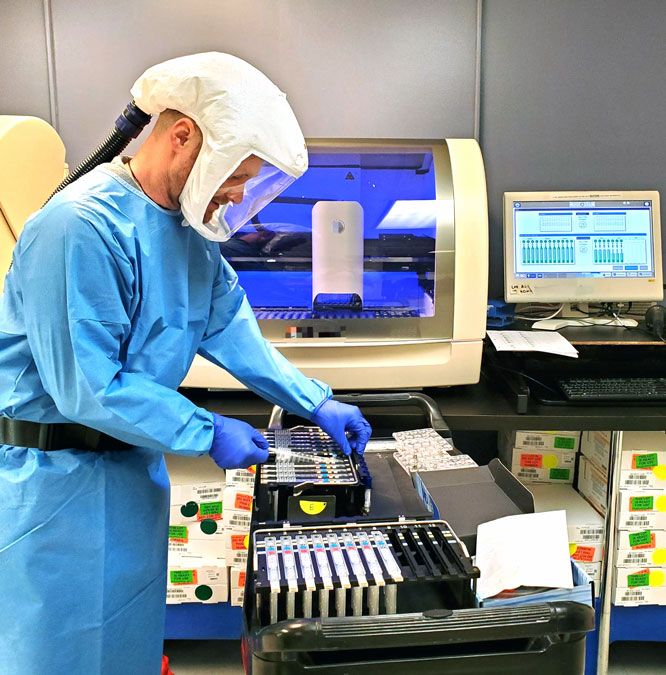 In summary, we always knew Brandon was amazing, but the pandemic has highlighted his many strengths as a leader and his passion for patient care. He is our hidden hero!
Submitted by Dr. Trish Simner, Director of Bacteriology and Parasitology at the Johns Hopkins Medical Institutions